BuoyPro Press Kit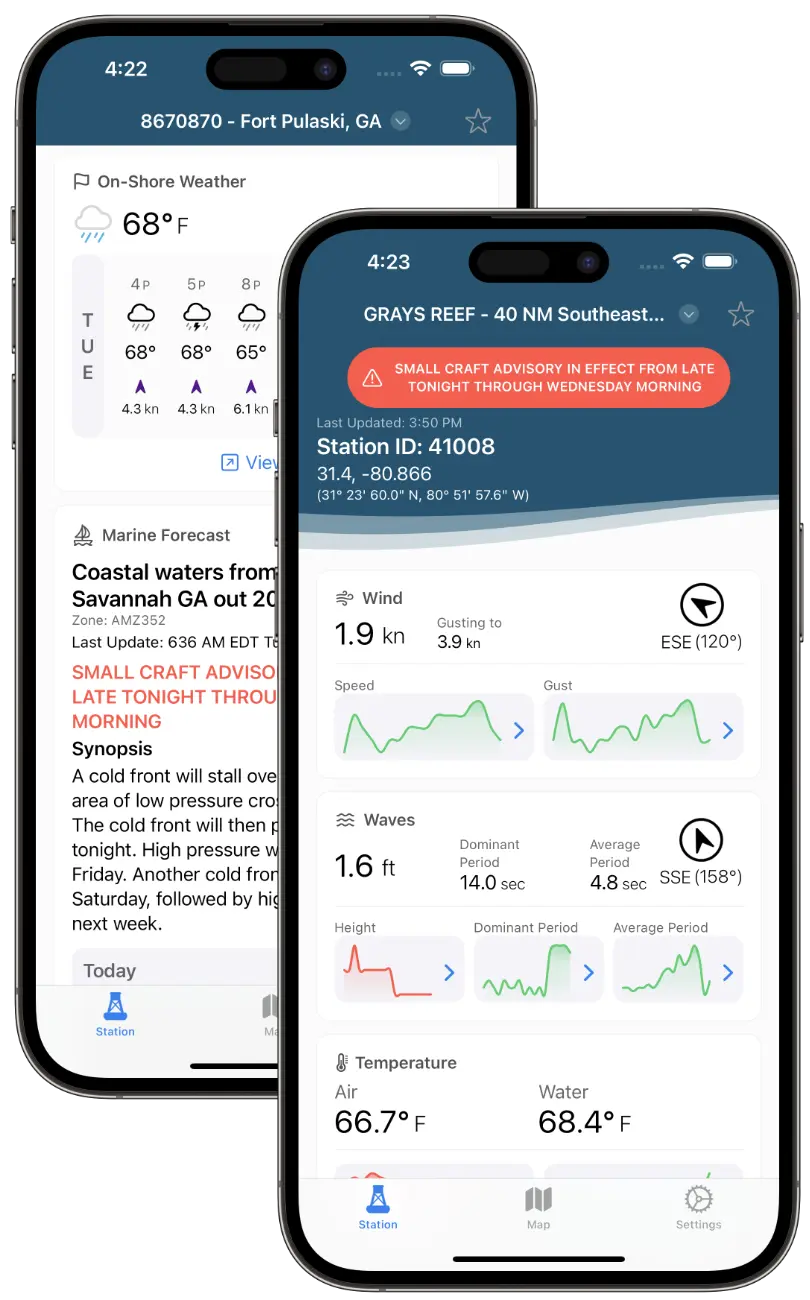 BuoyPro is a powerful marine weather app that's also privacy conscious. Get the latest NOAA weather observations from over 800 weather buoys spread across the world's oceans. BuoyPro is a great companion for boating and sailing.
Note: BuoyPro requires an internet connection. While the app provides data around the world, the best coverage is around the United States and US territories.
Contact
Features
Weather Observations - NOAA Buoy Observations for the following data points (the type of observations varies between stations, and may also vary throughout the day):

Wind speed, gusts, and direction
Water & air temperature
Dew point
Pressure and tendency
Wave height, direction, and periods

Observation Trends - See how the marine weather datapoints are changing over time (*Premium required)
Widgets - See observations on your home screen (*Premium required)
Favorites - Conveniently track observations at the buoy stations you care about most
Maps - Find buoy stations on an interactive map, including NOAA & NASA overlays (Some overlays require Premium)
NOAA Marine Forecasts for most locations (*Premium required for full forecasts, including a synopsis) [Some locations that are very remote or up rivers are not in marine forecast zones, and do not have marine forecasts]
On-shore weather forecasts
Tides at the tide station nearest the selected buoy station for buoy stations that are in the United States & US territories (Note: Not all stations are near a Tide prediction location)
Customize the home screen to change the order of the data, and put the items most relevant to you at the top. (*Premium required)
Dark Mode!
Who is this app for?
Ideal for sailors/boaters, or anyone else interested in marine weather.
Origin of the app
We started out creating a tides & fishing times app, and included weather buoy observations. We got requests from boaters and sailors for an app that was focused on buoy observations and marine weather, rather than primarily on tides.
Pricing
BuoyPro is free, but the free version shows ads for our Premium service and is missing some features. BuoyPro Premium removes the ads, trends, full marine forecasts, layout customization, supports ongoing development of the app, and more.
BuoyPro Premium is available at $0.99/month or $5.99/year. Our premium service subscriptions have a 1 week free trial, so you can try Premium out risk-free.
Images & Screenshots
Download Press Kit Media

If you need any additional screenshots/etc., please feel free to let us know at contact@buoypro.com
Legal